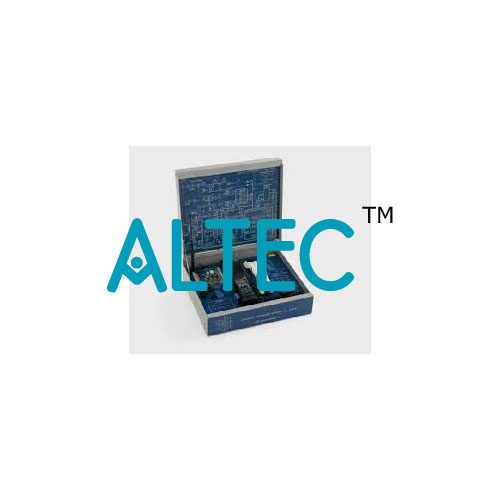 Altec Labs Manufacturers for Telephone Trainer from India
(Code - ALABS-A36-044 ) | Altec Export Lab Specification:
Telephone Trainer : Telephone Trainer
is complete working model of telephone. It gives hands on experience on basic telephony concepts, working and different experiments on telephone.The trainer comes complete with exhaustive experiment manual, accessories, test points, and LED's for indication. The complete circuit is printed on single sided PCB in section wise format, depicting the complete flow of system. Practical experience on this trainer carries great educative value for science & engineering Students.

Experiments:
Understanding of telephone.
Study of telephone features.
Study of speech circuit.
Study of ringer.
Study of tone dialing.
Study of pulse dialing.
Study of switching mechanism between subscriber :-

Incoming call.
Outgoing call.
Features:
Single sided PCB depicting different working sections.
35 test points and LED's provided on board to study signals.
Power from external telephone line, no power supply is required.
Pulse dialing as well as tone dialing facility.
Dialer and ringer section.
Mute, Redial and ON / OFF hook switches.
Telephone Handset: 1 Nos.
Weight : 4 Kg. (Approx.)
Technical Specifications :
Line in section : One dot line connection port.
Handset : One handset connection port.
Keyboard : 4×3 matrix keyboard.
Dialer : Tone and pulse.
Facilities : Redial up to 32 digits, Mute, Redial, Flash, Pause switches.
Indicators : Line in, Hook, tone and ringer, Call mute section.
Control : Ringer volume control, Ringer speed control.
Speech path : Fully Non-Blocking.
Dial pulse ratio : 10 pps + / - 10%.
Tone frequency : 430 Hz.
Input power : From telephone line