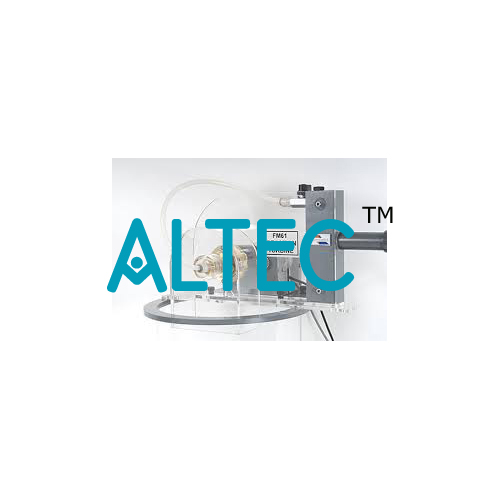 Altec Labs Manufacturers for Reaction Turbine Demonstration Unit from India
| | |
| --- | --- |
| Reaction Turbine Demonstration Unit | Name |
(Code - ALABS-A43-030 ) | Altec Export Lab Specification:
Reaction Turbine Demonstration Unit : Reaction Turbine Demonstration Unit

Small scale hydropower unit designed to demonstrate the operating principles of a reaction turbine.
Horizontal shaft and transparent guarding allow excellent visibility.
Mounts on a dedicated service unit.
Connects to a PC via the service unit and a USB interface console.
Description:
The Reaction Turbine Unit consists of an inlet manifold which supplies water to a central hub. Water exits the hub radially through two square orifices. The hub is connected to the manifold using a graphite face seal. The turbine is mounted on a horizontal shaft with a clear acrylic splash guard to allow maximum visibility of the workings The unit incorporates a pressure sensor to measure the inlet condition of the water. This pressure can be accurately controlled using the software supplied with the service unit.
Specification
Maximum Power: 25W
Maximum Speed: 8000rpm
Maximum Torque: 0.12Nm